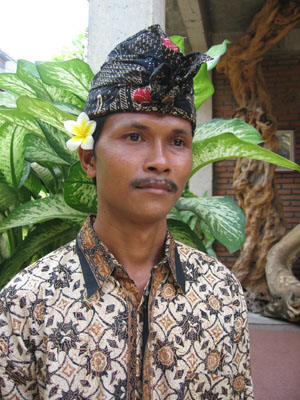 name :

I Ketut Geledih
birthday :

Dec. 31st. 1962
birth place :

Mas Village, Bali
prize :
---
exhibition data:

1982
Dewi Ratih sculpture got First Prize on Porseni Desa Mas art exhibition
1996
The 18th Bali Art Festival at Art Centre Bali
2000
The 22nd Bali Art Festival at Art centre Bali
2003
Group Exhibition at Musium Puri Lukisan Ratna Warta, Ubud
2004
Group exhibition "Art and Culture exhibition" at Griya Wana Giri Mas
Group exhibition "Leha lehah" at Bidadari Art Gallery, Mas - Ubud
2005
Group exhibition "Pre Binalle Bali" at Bidadari Art Gallery, Mas Ubud
Group exhibition "Kayunin Kayun" which cooperated by Bidadari Art Gallery at Hadi Prana Gallery, Jakarta
Group exhibition three countries "Sha A Ya, The Roots of Asia" at Bidadari Art Gallery, Mas-Ubud, Bali
---
comment from BIDADARI :

Geledih was born on December 31st, 1962 in Mas Village, Bali. He relates that his early interest in the world of carving art came from his own home, which also functioned as a carving workplace Looking at several pieces of wood that haven't they are dead wood. Very soon , through Geledih expertise, a piece of wood that one could never guess what form it will take, will be transformed into something alive, and totally captivating. In fact, often Geledih himself has a hard time releasing finished work to go to a buyer.
He comes from a simple farmer family, Geledih and his brothers, from a young age, were often tasked with caring for the family ducks by his parents. Many of Mas's young people also were duck herders in those years.
As well as having a strong personal aptitude himself, he was also influenced by the active carving community in his area, and Geledih began honing his carving art from the early age of ten. In the beginning Geledih didn't have much sell confidence. But the sale of his first carving - he doesn't remember how much he sold it for that the time became an important starting point. "I was very happy at that time, from then on my longing to learn had no blocks", he said excitedly.
At the age 15, around 1987 until 1988, he worked and studied with Ida Bagus Tilem. "I started from zero, I was treated like a new student I had to study as if I had never done a wood carving before. I started to study making a Buddha carving from a small coconut, and each successive stage was difficult and complicated".
Regarding this difficult work, Geledih remembers the message of his teacher, "if I am a strict and hard teacher to you, it is only because I like you. It was no different than when I play my favorite drum. Sitting it on my lap, I beat it until I get the desired tone. Thus you will gain much more skill than someone who does things the normal, easy way", says Geledih, remembering Gus Tilem with eyes lost in faraway thoughts.
At eleven years, Geledih sharpened his abilities under the guidance of this teacher, who called him a "genius". He had found a strength in himself that he hadn't ever been aware of. He went on his own in 1998, continuing to bring increased freedom and creativity to his work, proving his ability to a wide public. "Now I wholeheartedly realize that all that my teacher said was true. My work with wood (kayu) is strengthened with sincerity (kayun). Unity of self, heart, and feelings with the wood is important so that we can work the wood with respect, love and earnestness, and thus can bring out the best possible pureness of expression and a spirit that attracts people to love and admire our work", says Geledih, the gifted and ever-determined artist.
art works :

| | | | |
| --- | --- | --- | --- |
| | | | |
| "Wolgathering" | "Mother Embrance" | "Ganesha" | "Waiting Sweet Heart" |
| | | | |
| | | | |
| "Suckling" | "Ratih Godess" | "Blooted Princes" | |