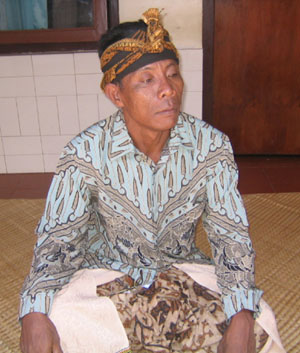 name :

Wayan Kencana
birthday :

1952
birth place :

Mas Village, Bali
prize :
---
exhibition data:

| | |
| --- | --- |
| 2004 | Group exhibition "Leha lehah" at Bidadari Art Gallery, Mas - Ubud |
---
comment from BIDADARI :

Wayan Kencana was born on 1952 at Mas village, Bali.
Kencana is special because his expertise is working with root wood, and his work has become another art form. His proficiency was not gained easily. He is tenacious is trying new things and in getting past his failures, along with a firm desire to learn from people who can help him, even up to day.
"I began because I saw so much. In my neighborhood, everyone was into carving, whether it be making sculptures, or carving handicrafts. My self I still can't really call my self an artist, there is still so much I need to perfect. If my works are appreciated more than handicrafts, it's because they surely have a different character. What I've accomplished so far, it's only the beginning", he says humbly.
In reality, Kencana's works are not ordinary. As a student he worked and studied at the Ida Bagus Tilem studio from the time he was 18 years old. He possessed an above average amount of determination. He has never shopped studying, thanks to his teachers, who were always correcting his carvings. But he continued to blossom, in spite of what he says, until he decide to work on his own. Being apart from his teacher was a fearful experience for him, as he was now in a position to figure out designs all by himself for his works, without his teacher at his side anymore. This was a real challenge. I have chosen this work with all its consequences. Whatever the difficulties, I will keep on following my path. My happiness is being able to realize works that are good, and that are appreciated", says the father of two sons who have fortunately inherited artistic talents that still is being developed.
"I still see many young people in Mas village that are carving, but from the standpoint of quality, the art seems to be decline because many of them are doing it only to fill handicraft orders", he said.
art works :

| | | | |
| --- | --- | --- | --- |
| | | | |
| "Ni Bawang" | "Salya III" | "Sri Godess and Goose" | "Salya V" |
| | | | |
| | | | |
| "Rama Sita I" | | | |